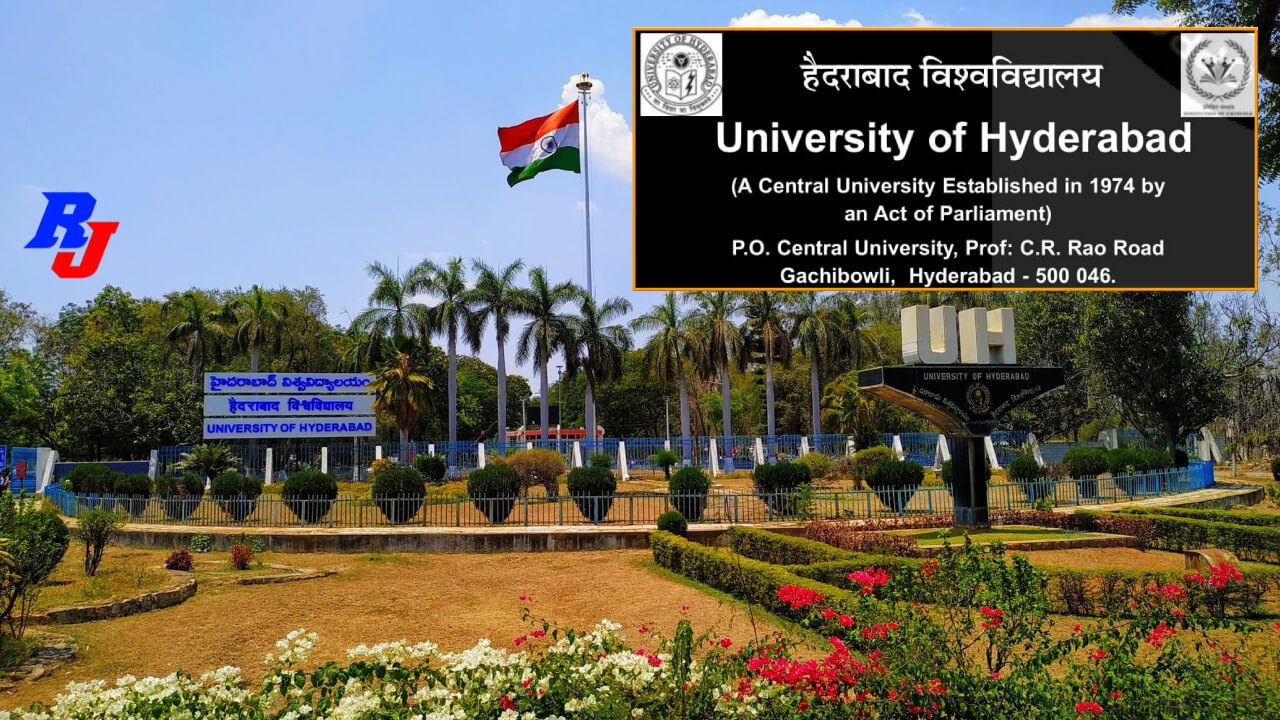 Guest Faculty Positions in UoH, University of Hyderabad, India
Designation/Position- Guest Faculty Positions in UoHin UoH
University of Hyderabad, India, invites applications for Guest Faculty Positions in UoH from eligible and interested candidates
About- The University of Hyderabad (UoH) has been ranked fourth best among Universities in the country by the National Institutional Ranking Framework of MHRD for 2019. It was declared the Best Central University for 2015 and given the Visitor's Award by the Hon'ble President of India, Shri Pranab Mukherjee. UoH is in the top league of institutions with QS Global Rankings 600-650 (2019-20). It is among the top 100 fastest growing Universities under 50. The ranking surveys by India Today, The Week, Careers360 (Outlook group), QS World Rankings, US News and Reports, URAP (University Ranking by Academic Performance)-(Middle East), U-Multirank (Germany), and Nature Index, to name a few, have helped UoH to maintain a consistently high ranking in India in its research, publications, patents, student achievements, placements and outreach. Guest Faculty Positions in UoH
Research/Job Area- School of Engineering sciences and technology
Location- University of Hyderabad, India
Eligibility/Qualification–
A good Academic record with M.Sc. in Statistics with 55% + NET/SLET .
Under the term "Good Academic Record", the candidate must have obtained an average of 50%marks and above in Graduation.
A relaxation of 5% is provided at the Bachelor's and Master's degree level for the candidates belonging to SC/ST/OBC/PwD categories for the purpose of eligibility and for assessing the good academic record.
Possessing a Ph.D. degree in Statistics is desirable.
Applicants who have submitted their Ph.D. thesis in Statistics and are awaiting the completion of the Viva-voce examination may however be considered.
The superannuated teachers may also be considered for engagement as Guest Faculty subject to a maximum age limit of 70 years.
Job/Position Description-
School of Engineering Sciences and Technology (SES T), University of Hyderabad invites applications for appointment of 3 (three, GN-I, OBC-I, and EWS-I) nos of Guest Faculties (purely temporarily) in SEST to teach the 1st semester (August-December, 2022) M. Tech. Manufacturing Science and Engineering students of academic session 2022-23.
The selected Guest Faculties are expected to participate in other academic activities such as seminars, provide guidance to students, and extend any other type of help that the students may need and as assigned by the Dean of the school.
Further, they are expected to undertake student mentoring and not leave in the middle of the semester.
The Guest Faculties shall be responsible for the continuous and term-end evaluation of the students.
Courses to be taught:
1. Tool Design in Manufacturing,
2. Machining: Theory and Practice,
3. CAD: Theory and Practice
Emoluments: Honorarium of Rs. 1500/- per lecture is paid subject to a maximum of Rs. 50,000/- per month.
Note: Per F& A rules, 10 % for PAN Card holders and 20 % for non-PAN Card holders will be deducted towards income tax from the payment.
How to Apply-
Application together with CV and essential certificates should be sent to deansest@uohyd.ac.in. The syllabus of the courses, if needed, are available on the school website (uohyd.ac.in/sest/)
Last Date for Apply– 24 July 2022
Last date for receiving the application: is 24th July 2022 upto 5:30 pm.
The date and time of the interview would be intimated to the candidates by email.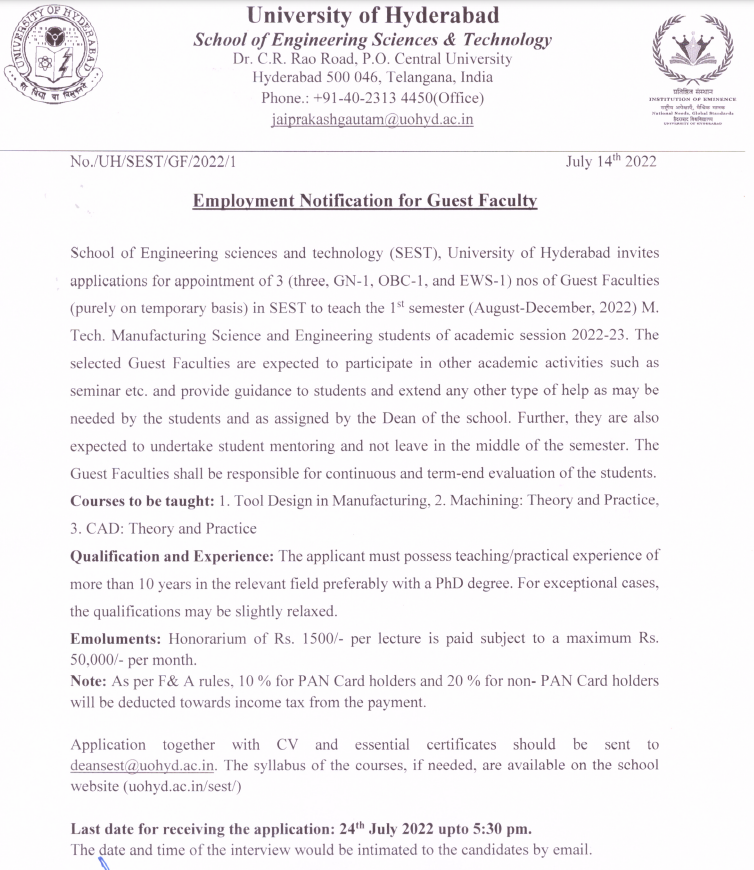 How to write an attractive research proposal?
How to Write an Effective Cover Letter – Prepare Yourself
6 golden tips for finding successful postdoctoral opportunities
Should I Do postdoc : Pros and Cons – ResearchersJob
Some Effective Tool to Improve Your Research Writing Skill