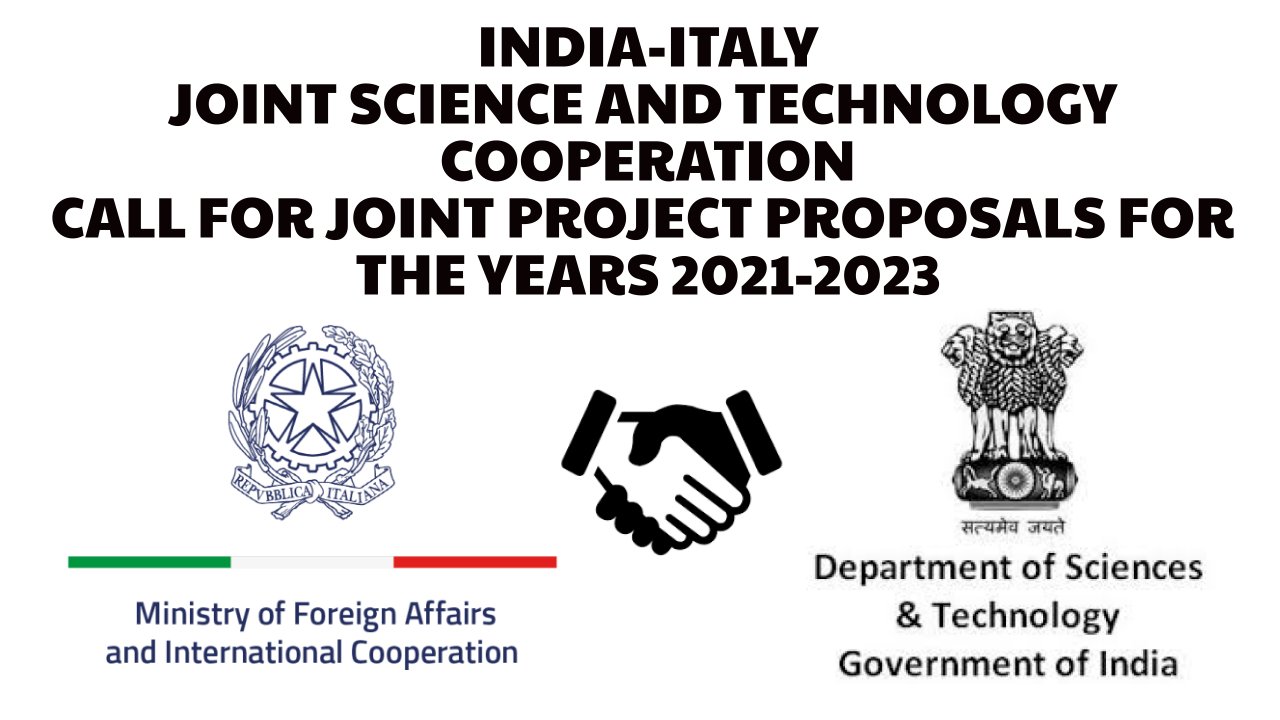 India-Italy Joint Science and Technology Cooperation: Call for Joint Project Proposals
Govt. of India & Govt. of Italy invites application for India-Italy Joint Project 2021-23 from eligible and interested candidates
About- Within the framework of the Agreement on Scientific and Technological Cooperation between the Republic of India and the Italian Republic, signed in New Delhi on 28th November 2003 and entered into force on 3rd November 2009, the Department of Science and Technology, Ministry of Science & Technology, Government of India and the Directorate-General for Economic and Cultural Promotion and Innovation – Office IX of the Italian Ministry of Foreign Affairs and International Cooperation (hereafter referred to as "the Parties") initiate herewith the procedures for the drafting of the Executive Programme for Scientific and Technological Cooperation for the three-year period 2021–2023 (hereafter referred to as "the Executive Programme"). India-Italy Joint Project 2021-23
Research/Job Area- Information and Communication Technologies/Physics, Astrophysics, Space sciences/Ecological and environmental modeling/Water management/Disaster risk management
More Opportunities: Various Research Positions – 10 April 2021: Researchersjob- Updated
NIG Postdoctoral Fellow Position in National Institute of Genetics, Japan
Research Associate Position at RGCB, Thiruvananthapuram- Apply by 20 April 2021
Project Manager Position at IIT Guwahati (Online interview) – Apply before…
Eligibility/Qualification–
The Call is open to scientists or faculty members regularly employed in universities and research institutions, including hospitals and foundations, as well as working in private nonprofit institutions that carry on R&D activities, in Italy or in India.
Indian PIs should be scientists/faculty members working in a regular capacity in universities, academic institutes and national research and development laboratories/institutes. The Indian Principal Investigator (PI) should not be retiring or leaving the parent institute during the proposed duration of the project.
Italian PIs shall hold Italian nationality or any other EU nationality provided they are permanently resident in Italy.
The Indian applicants who are in any way involved in the implementation of two or more projects that were previously supported by the DST (International Group) and that are not expected to be completed by 31st March 2021 are not eligible to be a member of the research team.
Italian and Indian PIs must submit the same project proposal to the respective Authorities responsible for the implementation of the Executive Programme. Proposals submitted in only one Country will not be considered for evaluation.
Projects must refer to activities to be completed within the period of validity of the Executive Programme and must be drafted in English.
Job/Position Description-
OBJECTIVES
A Call for the submission of joint research projects by researchers of both Countries is open, with the aim of encouraging scientific and technological cooperation between Italy and India with the deadline date 9th April 2021. As stated above, each Principal Investigator (hereafter referred to as PI) must submit one proposal only. All applicants must fulfill national eligibility rules to apply for mobility grants (see below and check national annexes for specific requirements). Proposed collaborations should build on and reinforce already existing research activities between teams in both Countries and should contribute with significant added value to these activities.
Funding will be granted within the limits of available annual resources of each Party.
PRIORITY RESEARCH AREAS
Project proposals may be submitted in the following priority research areas:
a. Information and Communication Technologies
b. Physics, Astrophysics, Space sciences
c. Ecological and environmental modeling
d. Water management
e. Disaster risk management
NB: Projects submitted in other research areas will not be considered.
FUNDING SCHEMES
With regard to the present call three funding schemes are available:
"Mobility of Researchers": joint research projects where only the expenses for researchers' mobility are funded by both Parties.
"Significant Project": joint research projects where research activities are co-funded by both Parties.
"Networks of Excellence", co-funded by both parties and aimed at creating long-term sustainable interactions between multiple Italian and Indian Research institutions, based on existing infrastructure, with significant impact on one priority research area
FUNDING PROCEDURES
Only the costs for the exchange of researchers will be financed and no other support like contingency, consumables, manpower or equipment etc should be expected or proposed under the Mobility programme. For each project 1 short-term stay (up to 10 days) and 1 long-term stay (up to 30 days) in Italy and 1 short-term stay (up to 10 days) and 1 long-term stay (up to 30 days) in India may be financed yearly.
The Italian Party will pay the international travel expenses to researchers of the Italian team visiting India and will provide medical insurance and a contribution for allowances expenses in Italy to visiting Indian researchers under the jointly selected projects as follows:
93 Euro/day, from day 1 to day 10, up to a maximum of 930 Euro (short-term stay) and
18,50 Euro/day, from day 11 to day 30, up to a maximum amount of 1.300 Euro (long-term stay).
Changes in the composition of the two research teams during the validity of the P.E. must be notified in advance by the Italian P.I. through certified e-mail.
The Indian Party will pay the international travel expenses including visa fee under the jointly funded projects. Indian party will also provide local hospitality and medical insurance for the visiting Italian researchers (fully furnished accommodation and per diem @ Rs. 2500 per day) under the jointly selected projects.
Each PI must submit only one proposal and can apply to only one funding scheme (Exchange of Researchers or Significant Projects or Network of Excellence
How to Apply-
1.3 SUBMISSION PROCEDURES
Procedures applicable to Italian PIs. Italian PIs shall submit their proposals exclusively online, by filling the dedicated form at the link: http://web.esteri.it/pgr/
The deadline for submission of proposals is 30 April 2021, at 14.00 CEST (local time in Italy). Any proposal received after the above cited deadline will not be evaluated.
For any inquiry concerning the present Call, please contact the following email address: dgsp09bandi1@esteri.it
Procedures are applicable to Indian PIs. Indian applicants seeking funding can download the proposal formats from websites www.dst.gov.in / www.onlinedst.gov.in and should submit a completed application form and all relevant information through the e-PMS portal. The proposal must be submitted to DST through the e-application system provided at www.onlinedst.gov.in by 9th April. Additionally, Indian Applicants also requested to send two hard copies to DST (Dr. Rajiv Kumar, Scientist E, DST) by 15th April 2021 through the proper channel. It should be ensured that an application with the identical title has been submitted by his/her Italian counterpart by the due date.
Proposal not submitted through ePMS portal by due date will not be considered.
Last Date for Apply– 30 April 2021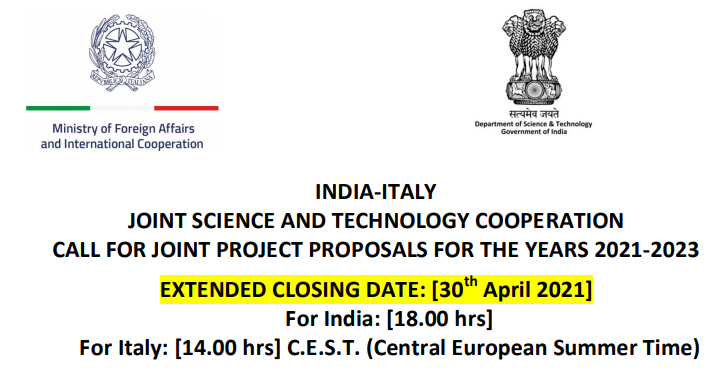 Find or Post Research Project PositionS – Researchersjob Board
See Also: Motivation Letter for PhD, Postdoc, and Other Research Positions
Whitesmoke Grammar Checker Online – Improve Your Research Writing Skill – Alternative to Grammarly
How to write a literature review: Tips, Format, and Significance
Research Proposal How to Write: Detail Guide and Template