Designation/Position- Post-Doctoral Fellowship Position at USA
Ozbolat Laboratory at Penn State, USA invites application for Post-Doctoral Fellowship Position at USA from eligible and interested candidates
About- Ozbolat Laboratory at Penn State has openings for 4 highly-motivated post-doctoral fellows in the fields of 3D bioprinting and regenerative medicine. The successful candidates will work on interdisciplinary NIH, NSF, and private-foundation funded projects to 3D bioprint bone, skin, craniofacial, muscle, lung, intestine and cardiac tissues.
Research/Job Area- Biomedical/mechanical/chemical/electrical engineering, dentistry, molecular/cellular biology, orthopedics, chemistry, or a closely-related field
More Opportunities:
Various Postdoc Position in KTH Royal Institute of Technology, Sweden
NRC Research Associateship Programs by U.S. Government
NCERT Doctoral Fellowship Scheme: Apply by 05 December 2020
Global Postdoctoral Fellowships in University of Pennsylvania, USA
Scientists & Principal Scientists at CSIR IIP, Dehradun, Total Post=12
Location- Ozbolat Laboratory at Penn State, USA
Eligibility/Qualification–
Applicants must possess a Ph.D. in the field of biomedical/mechanical/chemical/electrical engineering, dentistry, molecular/cellular biology, orthopedics, chemistry, or a closely-related field.
A strong publication record is required. Experience in research proposal writing would be an advantage.
Ability to work independently as well as in a collaborative team environment. Strong work ethic, communication skills and team-player oriented personality
The candidate should have a proven record in the abovementioned fields with a strong background in a range of molecular biology techniques (cell transfection), cell culture and isolation (i.e., stem cells, primary cells), preparation of hydrogels, 3D culture (spheroids, organoids, or hydrogels), protein analysis (immunohistochemistry/ immunofluorescence, microscopy imaging, Western blot), tissue histology, and animal (rodent) handling and dissection. Specific skills in stem cell differentiation, microfluidics, bioprinting and/or vascular biology will be advantageous.
Job/Position Description-
The successful candidate will join a multidisciplinary research laboratory with 15 researchers and 3 affiliated surgeons at the Millennium Science Complex (MSC), which is part of Huck Institute of Life Sciences with world-class facilities including animal and core facilities in MSC building.
The lab currently engineers around 10 different tissue types using bioprinting.
There are excellent opportunities to interact and collaborate with other researchers in the institute as well as other established Pis at Penn State who specializes in stem cells, biomaterials, and transplantation.
The position is intended as a full-time (40 hours/week, 12 months/year) appointment.
The appointment period is initially for one year, with the possibility of extending for additional years.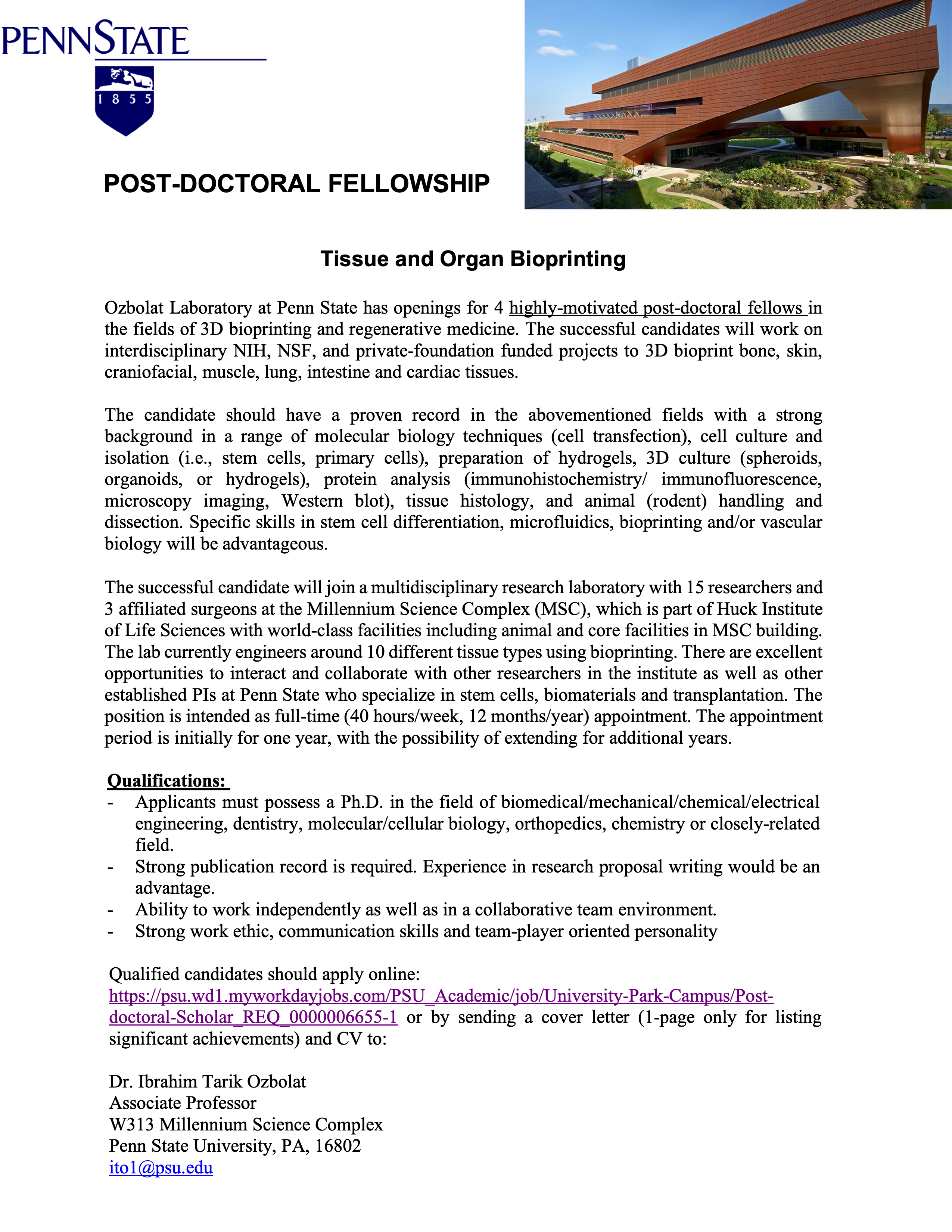 How to Apply-
Qualified candidates should apply online: or by sending a cover letter (1-page only for listing significant achievements) and CV to:
Dr. Ibrahim Tarik Ozbolat Associate Professor
W313 Millennium Science Complex Penn State University, PA, 16802 itol@psu.edu
Last Date for Apply– Till Position Filled
Find or Post Research Project PositionS – Researchersjob Board
See Also: Berlin Mathematical School PhD Program – Freie Universität Berlin
Hong Kong PhD Fellowship Scheme (HKPFS), Up to 300 Ph.D. Fellowships
Hans Böckler Foundation: Ph.D. scholarship at German institutions of higher education
Research Associate & Scientist Positions at GenVynn Biologics Pvt. Ltd.
Join Our Discussion Forum – Keep your view, share knowledge/opportunity and ask your questions