Project Manager – Research Position in IIT, Kharagpur, WB, India
Designation/Position- Project Manager – Research Position
Indian Institute of Technology, Kharagpur, WB, India invites application for Project Manager – Research Position from eligible and interested candidates
About- The motto of IIT Kharagpur is "Yogah Karmasu Kaushalam". This literally translates to "Excellence in action is Yoga", essentially implying that doing your work well is (true) yoga. This can be traced to Sri Krishna's discourse with Arjuna in the Bhagavad Gita. The quote, in the larger context of the Gita, urges man to acquire equanimity because a mind of equanimity allows a man to shed distracting thoughts of the effects of his deeds and concentrate on the task before him. Equanimity is the source of perfection in Karmic endeavors that leads to Salvation. Research Associate – Development Position
Research/Job Area- Electrical Engineering
Location- Indian Institute of Technology, Kharagpur, WB, India
Skype Interview Tips and Tricks – Best Practices in the Video interview
Eligibility/Qualification–
Qualifications
1. B.E./B.Tech. and M.E./M.Tech. degree in Electrical Engineering.

2. The candidates should have a good academic record with all through first class and more than 65% marks in all degrees starting from class-X and onwards.

3. The master's degree specialization should be in Power Electronics or allied areas.

4. Ph.D. in Power Electronics is also desirable but not mandatory. Candidates who have applied previously need to apply again with their updated credentials.

Relevant Experience
1. At-least three years of research/industry experience in the relevant area (power electronic converters and their control) after the master's degree is mandatory.

2. Candidates with programming knowledge on OPAL-RT/Lab-View/dSPACE will get preference.

3. Hands-on experience on the development of experimental prototype related to power electronic converters is a prerequisite for selection.

Job/Position Description- 
Project Title
UK India Clean Energy Research institute (UKICERI)(UIR)
Reference No.
IIT/SRIC/R/UIR/2020/109
Reference Date
25-Sep-2020
Temporary Position(s)
Project Manager – Research
Vacancies
1 post
Consolidated Compensation
Upto Rs.50000(depending upon qualification & experience)
Coordinator / PI
[Dr. / Prof.]
Chandan Chakraborty
Department/School/Centre
Electrical Engineering
| | |
| --- | --- |
| Sponsor | Department of Science & Technology(DST)(Government of India,Ministry of Science & Technology,Department of Science & Technology, Technology Bhavan, New Mehrauli Road, New Delhi-110 016) |
| | |
| --- | --- |
| Application Fees | Demand Draft for Rs.50/- (Not for female candidates) drawn in favour of IIT Kharagpur payable at Kharagpur |
How to Apply-
Eligible and interested candidate can apply online.
Last Date for Apply– 16 October 2020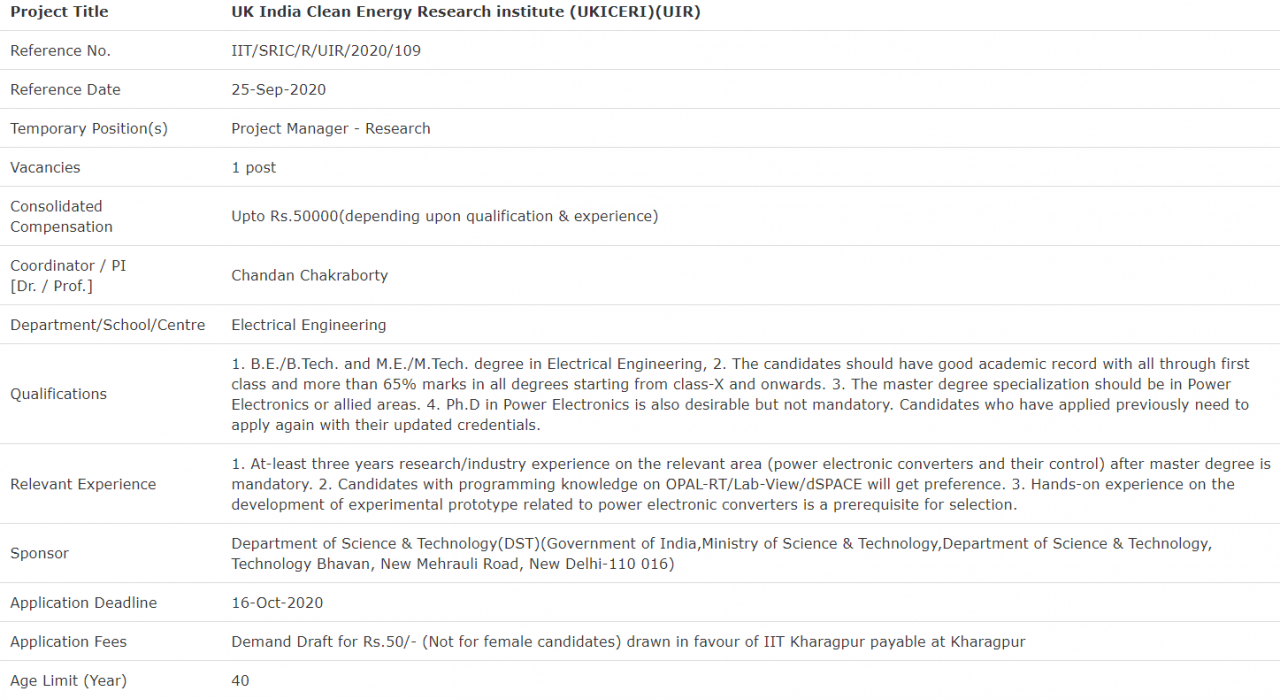 Skype Interview Tips and Tricks – Best Practices in the Video interview
Join Our Discussion Forum – Keep your view, share knowledge/opportunity and ask your questions