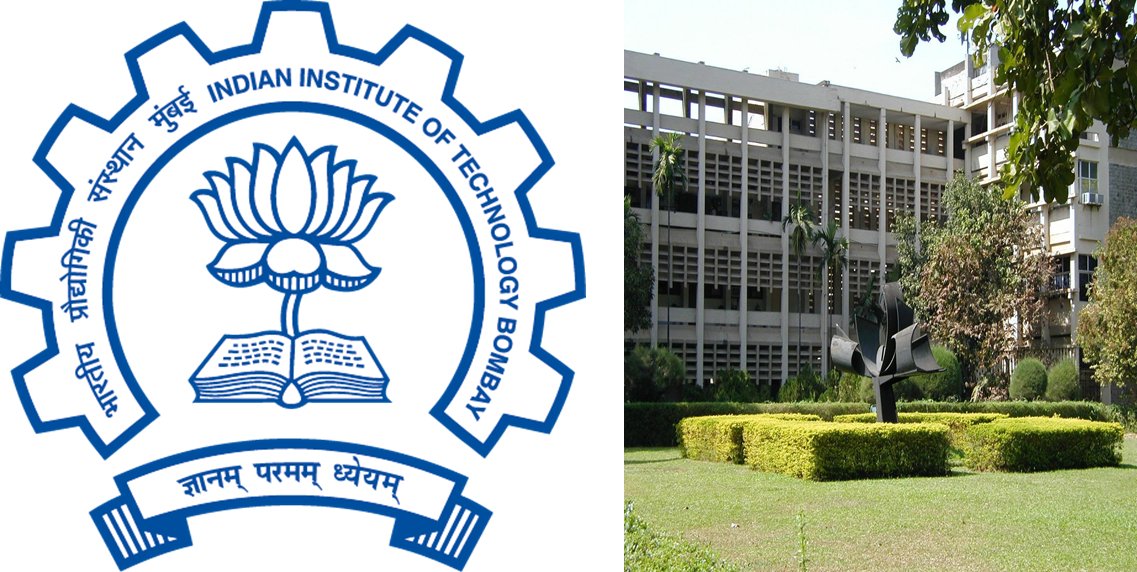 Research Associate Position at IITB Bombay, Maharashtra, India
Designation/Position- Research Associate Position at IITB
IIT Bombay, Maharashtra, India invites application for Research Associate Position at IITB from eligible and interested candidates
About- Established in 1958, the second of its kind, IIT Bombay was the first to be set up with foreign assistance. The funds from UNESCO came as Roubles from the then Soviet Union. In 1961 Parliament decreed the IITs as 'Institutes of National Importance. Since then, IITB has grown from strength to strength to emerge as one of the top technical universities in the world. Research Associate Position at IITB
Research/Job Area- Mechanical, Aerospace, Chemical Engineering or Mathematics
Location- IIT Bombay, Maharashtra, India
Skype Interview Tips and Tricks – Best Practices in the Video interview
Faculty Positions in Indian Statistical Institute (ISI), Kolkata, India, Total Post…
Various Postdoc Fellowship in Canada 2021, University of Calgary
Emmy Noether Postdoctoral Fellow Programme for Early Career Researchers, DFG –…
Eligibility/Qualification–
PhD in Mechanical, Aerospace, Chemical Engineering or Mathematics. People with strong mathematical skills will be preferred.
Job Profile: Understand rarefied gas flows and working out analytical solution for related problems.
Job/Position Description-
Advertisement No.: IRCC/EXT044/2021
Job Title– Research Associate
Job Reference Number 50205605
Application End Date– 26.04.2021
Type of Employment– Proj. Staff Contract
No. of Position(s)– 1
IITB Project Recruitment:
Project title: Search for Flow Equations in the Transition Regime with Application toGas Centrifuge
About the project: The project involves developing theory for low pressure gas flows (rarefied gas flow). Also, finding analytical solution of the equations
Pay Details: Consolidated salary Rs.47000/- p.m. + HRA
The position is temporary for a period of 1 year and tenable only for the duration of the project. The appointment is for time bound project and the candidate is required to work mainly for the successful completion of the project. The selection committee may offer lower or higher designation and lower or higher salary depending upon the experience and performance of the candidate in the interview.
How to Apply-
Eligiblele and interested candidate can apply online.
Candidates called for interview will be required to attend at his/ her own expenses.
For any queries/clarification please contact: recruit@ircc.iitb.ac.in
Last Date for Apply– 26 April 2021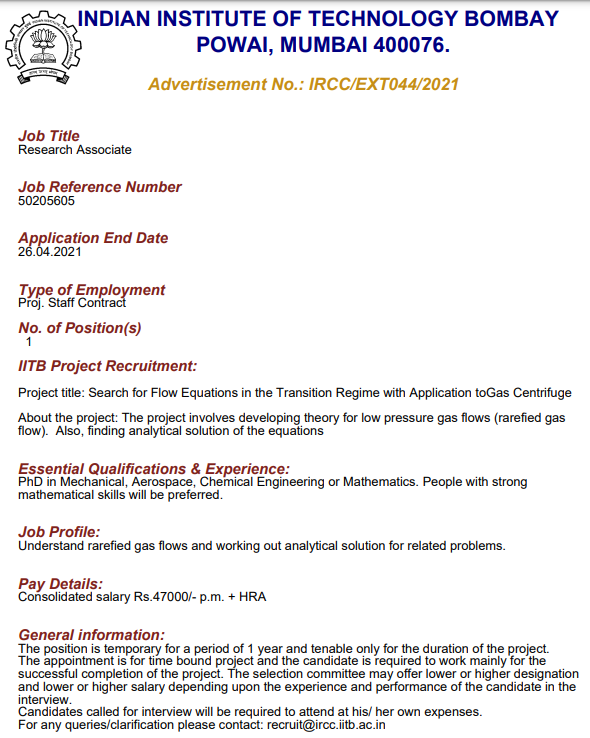 Find or Post Research Project PositionS – Researchersjob Board
Join Our Discussion Forum – Keep your view, share knowledge/opportunity and ask your questions