Research Associate Position in IISER Bhopal, India – Under DBT/CSIR project
Designation/Position- Research Associate Position in IISER
IISER Bhopal, India invites application for Research Associate Position in IISER from eligible and interested candidates
About- The vision of the Institute is to provide high-quality education to undergraduate, postgraduate, and doctoral students. The Institute also aspires to contribute to society through teaching and research to help achieve global sustainability. Further, the Institute aims to produce leaders in science and related disciplines. Research Associate Position in IISER
Research/Job Area- Biology, biochemistry, biophysics
Project Title: Functional characterization of mitochondrial membrane protein import defects and onset of Parkinson's disease
Location- Indian Institute of Science Education and Research Bhopal, MP, India
9 Important Tips to Publish Your Work in Journal with High Impact Factor
Eligibility/Qualification–
Qualification:
Ph. D. in the broad areas of cell biology, biochemistry, biophysics. Candidates with a degree in other disciplines can also apply if they have a strong aptitude for experimental protein biochemistry.
Prior research experience in working with mitochondrial proteins and yeast model systems is highly desirable.
Age: Applicant should not have completed 34 years of age at the time of joining
Job/Position Description-
Research group is working towards discovering the link between mitochondrial membrane protein import, membrane protein folding, protein stability, and function.
Research group combine ultrafast kinetics and spectroscopic measurements with single-channel electrophysiology and cell survival assays to obtain a complete understanding of mitostasis and mitochondrial bioenergetics.
We (Research group) link mitochondrial dysregulation with the onset of debilitating pathologies including Parkinson's disease, other neurodegenerative disorders, and cancer.
For further details, please visit our laboratory website at: http://home.iiserb.ac.in/~maha/.
Salary: Rs. 47000 per month, based on qualification and prevailing DBT/CSIR norms.
Tenure: Minimum of 1 year and maximum of 3 years.
How to Apply-
Apply to maha[at]iiserb.ac.in with a detailed CV which includes the date of birth, recent photograph, contact phone number, past research experience (detailed), one-page SoP, and the names and contact details of at least two referees.
Incomplete applications or those that do not meet the minimum criteria will not be considered. Shortlisted candidates will be contacted over e-mail with interview dates. Posts will be kept open until it is filled by a suitable candidate.
Shortlisted candidates will be called for an interview.
For more details and context, see the homepage of Dr. Phani Kumar.
Last Date for Apply– Till position filled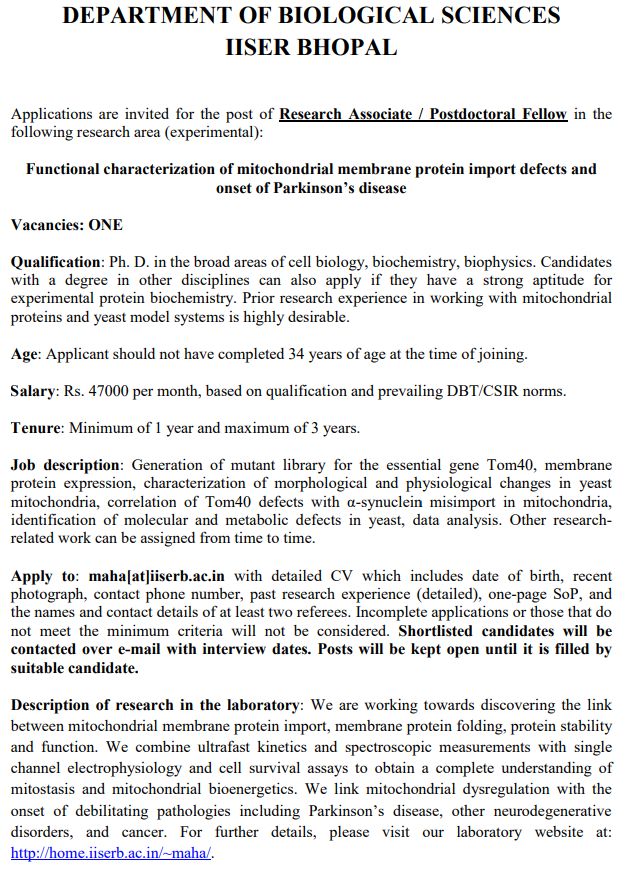 Join Our Discussion Forum – Keep your view, share knowledge/opportunity and ask your questions