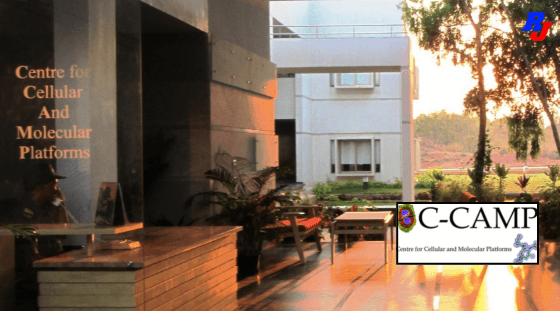 Designation/Position- Senior Scientist Position at C-CAMP
C-CAMP, Bengaluru, Karnataka, India invites applications for the Senior Scientist Position at C-CAMP from eligible and interested candidates
About- Centre for Cellular and Molecular Platforms (C-CAMP), is a Dept. of Biotechnology (Govt. of India) initiative and a not for profit organization based in Bangalore. We act as an enabler of Bioscience Research, Innovation and Entrepreneurship by providing Research, Development, Training and Services in State Of The Art Technology Platforms. As a part C-CAMP's mandate of promoting entrepreneurship and innovation, C-CAMP has created and fostered an entrepreneur-friendly culture in and around academic/research environment through its involvement in seed funding schemes for Startups, Entrepreneur Mentorship program and Bio-incubation facility.
Research/Job Area- Molecular/Cell Biology or any related stream in Biosciences
Location- Centre for Cellular and Molecular Platforms (C-CAMP), Bengaluru, Karnataka, India
Eligibility/Qualification–
Ph.D. in Molecular/Cell Biology or any related stream in Biosciences with at least 5 years of postdoctoral and industry/academic experience
Must have a deep domain understanding of development of Molecular Diagnostic tests. Research experience in the area of infectious diseases will be preferred
Must be well versed with analytical method development and validations
Should have excellent working knowledge of Quality systems, cGLP and regulatory requirements
Should have people management experience and excellent collaboration and coordination skills to seamlessly work with all stakeholders
Should have excellent communication skills and good documentation practices.
Job/Position Description-
Applications are open for the position of Senior Scientistfor Indigenization of Diagnostics Program at C-CAMP. This is a supervisory and a hands-on laboratory position. This is a contractual position and is tenured for one year, likely to be renewed further.
The CCAMP-InDx Program for Indigenisation of Diagnostics is a GOI initiative towards Atmanirbhar Bharat – Diagnostics. The program is funded by the Rockefeller Foundation and anchored at C-CAMP, Bangalore.The program has successfully enabled the indigenous manufacturers to produce over a million indigenous diagnostic kits per day to support COVID-19 testing in the country. This has been executed by building a robust supply-chain of Indian MSMEs capable of producing high quality molecular diagnostic kits and reagents, technology developers and service providers facilitated by a dynamic world class digital platform. The program hand-holds MSMEs in meeting both quality and capacity goals by providing support from the CCAMP-InDx Centres of Excellence operating out of leading research institutes in the country. Currently we have close to 200 members from Diagnostics industry as well as Academia, including kit and component manufacturers, service providers and technology developers.
Responsibilities:
Design, plan and execute projects on molecular diagnostic of infectious diseases
Supervise, train and manage a team of scientists associated with the CoE
Manage and ensure smooth functioning of the CoE laboratory
Collaborate and coordinate with project management and outreach team, other InDxCoEs and InDx cohort members
Draft/Review/Approve Results, Reports, Tech Transfer documents, workflows and SOPs
Establish and ensure compliance to cGLP
Lead and coordinate activities around laboratory accreditations
Provide management updates
Any other as assigned
How to Apply-
To apply, send your detailed CV to "hr at ccamp dot res dot in" on or before June 30, 2022.
Last Date for Apply– 30 June 2022
You can get our Regular updates on Telegram also
Find or Post Research Project PositionS – Researchersjob Board
See Also: Motivation Letter for PhD, Postdoc, and Other Research Positions
Whitesmoke Grammar Checker Online – Improve Your Research Writing Skill – Alternative to Grammarly
How to write a literature review: Tips, Format, and Significance
Research Proposal How to Write: Detail Guide and Template