Designation/Position- Sr. Project Scientist
IIT Delhi, India, invites applications for Sr. Project Scientist Position from eligible and interested candidates
About- Indian Institute of Technology Delhi is a public technical and research university in Hauz Khas, Delhi, India. It is one of the oldest Indian Institutes of Technology in India. Established in 1961, it was formally inaugurated in August 1961 by Prof. Humayun Kabir, Minister of Scientific Research & Cultural Affairs. Sr. Project Scientist
Research/Job Area- Physics / Photonics /Quantum Optics
Location- New Delhi
Eligibility/Qualification–
Ph.D. in Physics / Photonics /Quantum Optics with a good knowledge of experimental optics/nanofabrication techniques. Desirable: Hands on experience in design, fabrication and characterization of nanostructures. In addition, sound knowledge of modelling and simulation packages such as lumerical for design of naophotonic/plasmonic devices and processes, and basic programming skills in MATLAB/python/C+ will be preferred.
Job/Position Description-
Project Description: Integrated photonics platforms play an instrumental role in developing scalable, robust, compact, stable and tunable quantum devices for various quantum information tasks. The project deals with building quantum sources of light using lithium niobate on insulator (LNOI), based on spontaneous parametric down conversion The work involves designing and fabricating nanostructures on LNOI. The fabricated optical chips will then be characterized for both classical and quantum features.
| | |
| --- | --- |
| Title of the Project | Integrated quantum light sources using LNOT (RPO4526G) |
| Funding Agency | DRDO, Ministry of Defence, New Delhi |
| Name of the Project Investigator | Prof. (Ms.) Jasleen Lugani email ID jasleen@sense@iitd.ac.in |
| Deptt/.Centre | Centre for Sensors, Instrumentation and Cybe r Physical Systems Engineering |
| Duration of the Project | Upto:25/06/2026 |
Post (s)
Consolidated fellowship
Pay-slab
Sr. Project Scientist (01)
Rs.56.000-60,000-64,000/ p.m. plus HRA @ 24%
How to Apply-
The candidates who are interested to apply for the above post should download Form No. IRD/REC-4 from the IRD VVebsite (http://ird.iitd.ac.in/rec) of IIT Delhi and submit the duly filled form with complete information regarding educational qualifications indicating percentage of marks/division, details of work experience etc. by e­mail with advertisement No. on the subject line to Prof. (Ms.) Jasleen Lugani at email id:jasleen@sense.iitd.ac.in.
IIT Delhi reserves the right to fix higher criteria for short-listing of eligible candidates from those satisfying advertised qualification and requirement of the project post and fheir name will be displayed on web link (http://ird.iitd.ac.in/shortlisted) alongwith the online interview details. Only short-listed candidates will be informed for online interview. In case any clarification is required on eligibility regarding the above post, the candidate may contact Prof. (Ms.) Jasleen Lugani at email id: jasleen@sense.iitd.ac.in
Last Date for Apply– 11 December 2023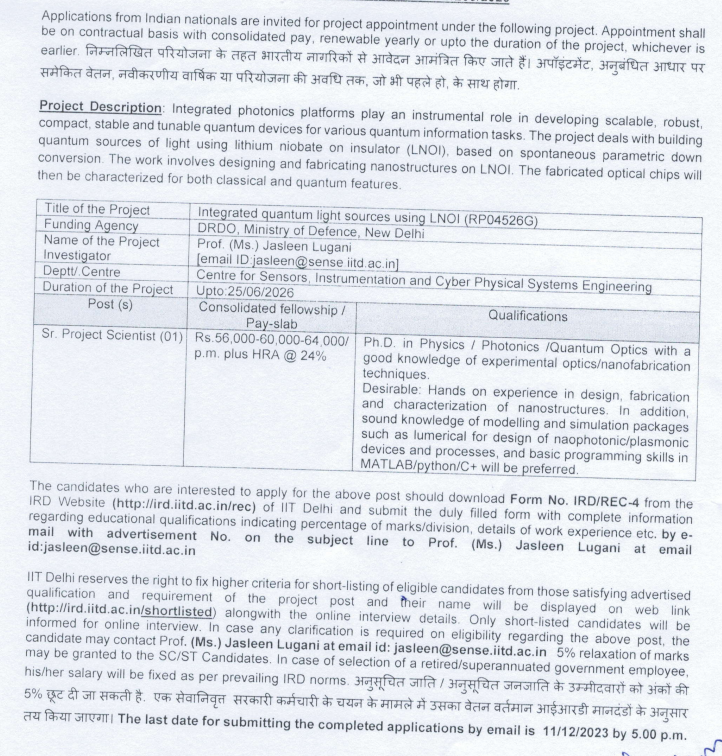 Difference between CV and resume: When to use which one: Explained
Join Our Discussion Forum – Keep your view, share knowledge/opportunity and ask your questions