Delhi University Recruitment 2023 at Kamala Nehru College, India
Designation/Position- Delhi University Recruitment 2020
Kamala Nehru College, Delhi University, India, invites applications for the Assistant professor position (Delhi University Recruitment 2023) from eligible and interested candidates
About- Kamala Nehru College stands in the frontline of the 'A' Grade colleges of Delhi University, accredited by the National Assessment and Accreditation Council (NAAC). Kamala Nehru College nurtures the growth of fine human resources in their formative years, where they enter as girls and step out in the world of challenges as young women—full of charm, self-confidence and intellect. Slowly and surely, they are shaped by the mentorship of a caring, competent and committed faculty. Here, the teaching-learning process is an experience in which the students explore and realize their potential. The academically stimulating environment of the college inspires the students to excel in their chosen courses.
A reputed college is seeking Assistant Professors on Guest Basis for the Academic Session 2022-23 in the Mathematics Department. This is a great opportunity for those who want to pursue a career in teaching and research.
Research/Job Area- Mathematics
Location- Kamala Nehru College, Delhi University, India
Eligibility/Qualification–
As per UGC norms.
The National Eligibility Test (NET) shall be the minimum eligibility for appointment of Assistant Professor.
NET/SLET/SET shall not be required for such Master's Degree Programmes in disciplines for which NET/SLET/SET accredited test is not conducted.
A minimum of 55% marks (or an equivalent grade in a point scale, wherever the grading system is followed) at the masters level shall be the essential qualification for direct recruitment of teachers,
Job/Position Description-
Conducting lectures and tutorials for undergraduate and postgraduate courses
Preparing and delivering lectures, seminars, and tutorials
Participating in departmental meetings and other college events
Guiding and supervising students in their research work
Developing and implementing teaching plans and materials
Grading assignments, papers, and exams
Providing feedback to students on their academic performance
How to Apply-
Interested candidates can attend the Walk-in interview on 19.04.2023 at 11:00am in the Committee Room of the College. Candidates must bring their resume along with all certificates/testimonials.
| Sr. No. | Department | No. of Posts | Category of Post/s | Date & Time of the Interview |
| --- | --- | --- | --- | --- |
| 1 | Mathematics | 2 | OBC-01&SC-01 | 19.04.2023 at 11:00am |
Last Date for Apply– 19 April 2023 (Walk-in-interview)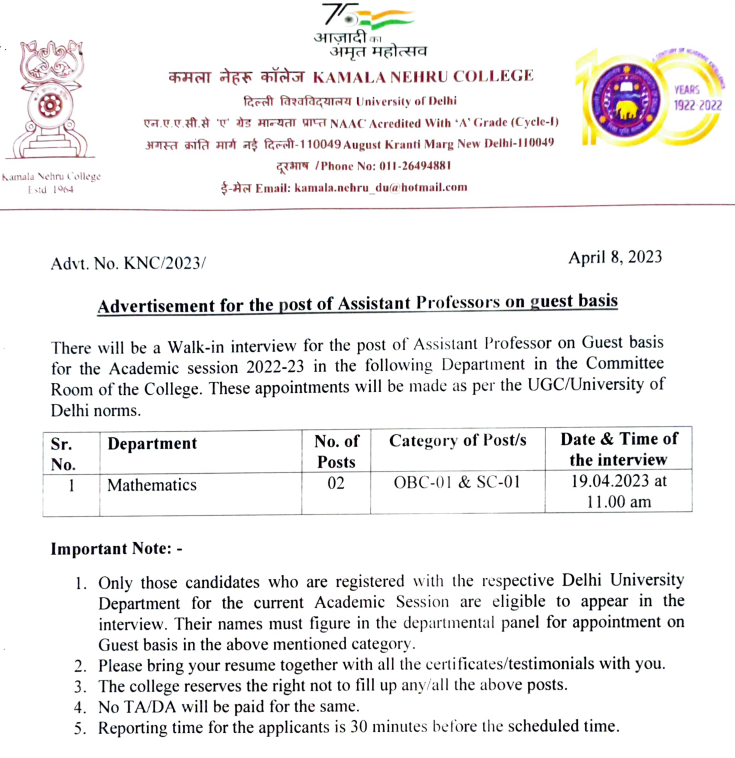 Join Our Discussion Forum – Keep your view, share knowledge/opportunity and ask your questions