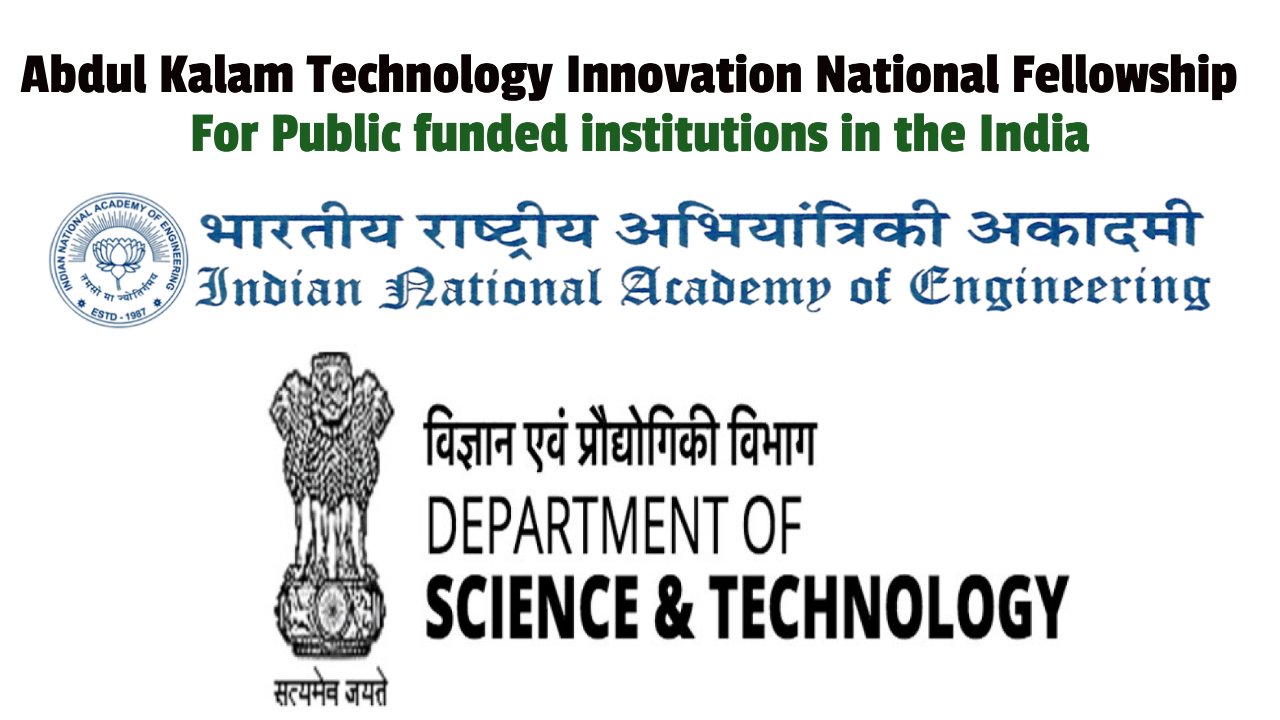 Abdul Kalam Technology Innovation National Fellowship 2021, India
Designation/Position- Abdul Kalam Technology Innovation National Fellowship 2021
INAE, SERB & DST, India invites application for Abdul Kalam Technology Innovation National Fellowship 2021 from eligible and interested candidates
About- Indian National Academy of Engineering (INAE) and Science and Engineering Research Board (SERB), Department of Science and Technology (DST) had launched the INAE-SERB, DST Abdul Kalam Technology Innovation National Fellowship in the year 2017 to recognize, encourage and support translational research by Indian Nationals working in various capacities of engineering profession, in public funded institutions in the country. Abdul Kalam Technology Innovation National Fellowship 2021
Research/Job Area- All areas of engineering, innovation and technology
Location- Public funded institutions in the India
Various Research Positions – 03 June 2021: Researchersjob- Updated
Call for Proposals – Star College Scheme From UG Colleges Of…
Scientist Position in CSIR-NML, National Metallurgical Laboratory, Jamshedpur, India
Faculty Position 2021 in JMI – Jamia Millia Islamia, New Delhi,…
Eligibility/Qualification–
The scheme is applicable to Indian nationals working in India in various capacities of engineering profession in public funded institutions.
The applicant should possess adequate professional qualification and hold at least a bachelor's degree
This applicant should have a minimum of five (5) years of service left in the parent organization as on the date of the award.
The applicant should not be holding any other fellowship and in the event of selection, he/she will have to opt for only one of the fellowships.
Job/Position Description-
Duration
The duration of the fellowship will be initially for three years, extendable by upto two more years depending on the performance.The fellowship can be held for a maximum of 5 years.
Nature of Support
The fellowship amount is Rs. 25,000 per month in addition to regular income.A Research grant of Rs.15.00 lakh per annum Overhead of Rs.1.00 lakh per annum to the host institute.The fellowship is taxable as per IT rule of the Government of India.
Expected Outcome
Commercialized or deployable technology; pilot scale or field trial worthy technology; patent (filed/ sold/ commercialized); working model or prototype for demonstration and trial.
Nomination
The nominations can be sent by the Heads of the Institutions/ organizations, Presidents/ fellows of National science/ engineering academies, SS Bhatnagar Awardees and JC Bose awardees.The nominations will be accepted throughout the year.
Fellowship
A Maximum of 10 Fellowships will be awarded per year.
Selection
Selection of Abdul Kalam Technology Innovation National Fellows will be made by a Search -Cum-Selection Expert Committee specially constituted for the purpose, as per the broad guidelines of the fellowship
Forwarding of Nominations
To download the Nomination Form please CLICK HERE
In view of the unprecedented crisis due to impact of Covid-19 Virus, the submission of the Nomination form along with all supporting documents/appendices can be submitted by email as a pdf file to INAE (inaehq@inae.in), as a special provision for this year. In case, the document is not signed by the nominator, an email should be sent by the nominator authenticating the nomination.
How to Apply-
A soft copy of the nomination is required to be forwarded to INAE through email, followed by one ink signed original hard copy to be sent to INAE Office, Gurgaon through Speed Post/Courier.
Last Date for Apply– 30 June 2021
A Nominee who had applied in previous Financial Years and not selected is eligible to apply again, provided the nominee has a residual service of five years left in his/her parent organization.
Contact- Email: inaehq@inae.in
How to write an attractive research proposal?
How to Write an Effective Cover Letter – Prepare Yourself
6 golden tips for finding successful postdoctoral opportunities
Some Effective Tool to Improve Your Research Writing Skill