Designation/Position- JRF/RA Position at IISER
IISER Mohali -India invites application for JRF/RA Position at IISER Mohali from eligible and interested candidates
About- Indian Institute of Science Education and Research, Mohali is an autonomous public research university established in 2007 at Mohali, Punjab, India. JRF/RA Position at IISER Mohali
Research/Job Area- Physical/Chemical/Biological Sciences or engineering degrees in any discipline
More Opportunities:-
Scientist Jobs in India -Various Latest Labs and Government Scientist Jobs
Project Scientist Position at IIT Kanpur: Apply by 15 April 2021
Senior Project Executive Scientist at IITB: Apply by 12 April…
Project Research Scientist Position at IITB: Salary upto Rs.84000+ 7500.00/- p.m.
Faculty Position at IACS, Kolkata: Salary upto Rs.1,48,532/- per month
Location- IISER Mohali
Eligibility/Qualification–
The applicants should hold a 5 yr master's degree in Physical/Chemical/Biological Sciences or 4 yr-engineering degrees in any discipline.
The candidate must have qualified GATE and or NET.
Strong knowledge of C/C++, Python, image processing, data acquisition, and GPU programming is essential for the post.
It is also essential that the candidates have a strong interest in learning some of the state-of-the-art single-molecule techniques we routinely perform in the lab using AFM and fluorescence microscope.
Job/Position Description-
Title: Development of a multiplexed Magnetic tweezer for single-molecule pulling of multiple beads simultaneously This project aims to design a software that may track multiple micron (typically 2-3 µM sized beads) in Z-direction at high-precision with fast image acquisition and data analysis. The work demands a substantial knowledge on programming in Python, C/C++ for image processing and data-acquisition, preferably also application of GPU programming.
Research group is an interdisciplinary research group who use single molecule techniques to understand biology quantitatively. To know more about our research interests, please visit our web-page.
Positions: One
Duration: One year and extendable up to 2 more years upon evaluation.
Emoluments (year wise): INR 31000/ 31000/ 35000+8%HRA
How to Apply-
Interested applicants should email the completely filled application form attached here and a 1-page cover letter (describing their past accomplishments, research interests and career goals in three paragraphs) to:
srakshit@iisermohali.ac.in / sabyasachi.ipc.in@gmail.com.
Last Date for Apply– 20 April 2021
Interview (Online): 25 April, 2021
Exact date, time and venue will be intimated to the shortlisted candidates by email.
Joining Date: Latest by 15th May, 2021
Contact person:
Sabyasachi Rakshit, PhD
Associate Professor
The Wellcome Trust/ DBT Intermediate Fellow
Department of Chemical Sciences
Indian Institute of Science Education and Research Mohali, Sector 81, SAS Nagar, Manauli,
Punjab 140306, India
Web: https://sites.google.com/site/rakshitslab/home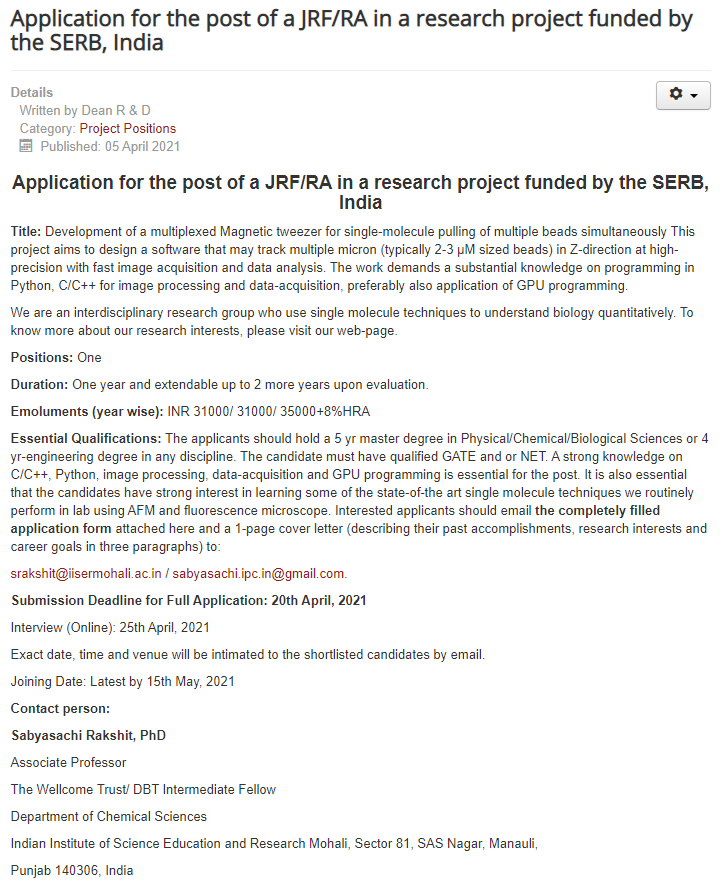 Join Our Discussion Forum – Keep your view, share knowledge/opportunity and ask your questions