Designation/Position- Research Associate Position at IIT Ropar
IIT Ropar, India invites applications for Research Associate Position at IIT Ropar from eligible and interested candidates
About- Applications are invited for "ONE" Research Associate-III (RA- III) position. The candidate will be working on Aeronautics R&D Board (ARDB) Project title: "Development of Incremental Forming process incorporating Novel Strategies for Titanium Alloy based Aerospace Applications". The position is contractual and renewable for up to one year based on the candidate's satisfactory performance, which will be renewed every six months. The progress of the candidate will be reviewed every three months. The tenure of the project is extendable beyond one year based on the progress of the project and the annual review of the project by the Aeronautics R&D Board (ARDB).
Write an Email to Professor: Complete Dos and Don'ts Discussion
Applications are invited from Indian nationals only for project position(s) as per the details given below for the consultancy/research project(s) under the Principal investigator (Name: Pratham Arora), Dept/Centre: Hydro and Renewable Energy, Indian Institute of Technology, Roorkee.
Title of project: Development of solar-powered decentralized fertilizer production cum-irrigation units
Sponsor of the project: DST, New Delhi
Project position(s) and number: Research Associate III, one position
Eligibility/Qualification:
Ph.D. (Electrical Engg./Power Electronics/Control & Instrumentation) or equivalent degree
OR having three years of research, teaching, design, and development experience after M.E./M.Tech (Electrical Engg./Power Electronics/Control & Instrumentation) with at least one paper in SCI journal
Desirable Qualification:
The applicant should be familiar with the hardware implementation of integrated systems with power converters and controllers.
Hands-on experience of hardware implementation of DC-DC converters/solar PV inverters/MPPT techniques and their controllers.
Designation: Research Associate III
Research Area: Solar Power and Renewable Energy
Location: Indian Institute of Technology, Roorkee
Emoluments: Rs 67,000/-
Duration: 11 months
Job Description: The selected candidate will be responsible for the design of power converters and controllers for integrating various types of loads with a solar PV system. This includes the hardware implementation of the integrated system.
How to Apply: Candidates desiring to appear for the interview should submit their applications with the following documents to the office of the Principal Investigator through email, by post, or produce at the time of the interview:
Application in a plain paper with a detailed CV including chronological details of degrees/certificates obtained
Experience, including research, industrial field, and others
Attested copies of degree/certificate and experience certificate
Candidates should also bring the original degree(s)/certificate(s) and experience certificate(s) at the time of the interview for verification. Preference will be given to SC/ST candidates on equal qualifications and experience. Please note that no TA/DA is admissible for attending the interview.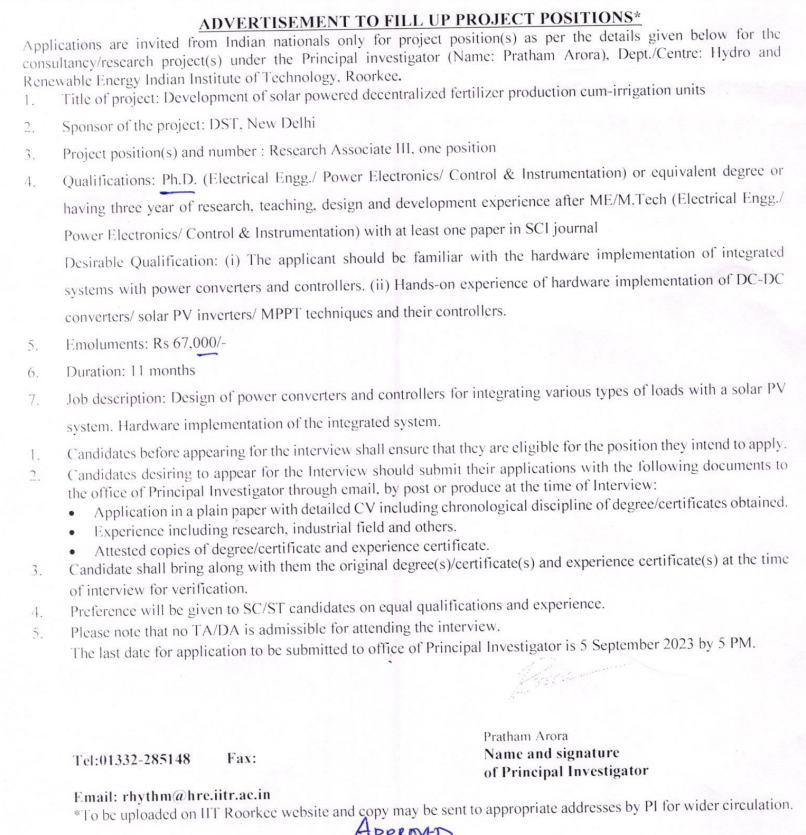 Last Date for Apply: 5 September 2023 by 5:00 PM
Join Our Discussion Forum – Keep your view, share knowledge/opportunity and ask your questions