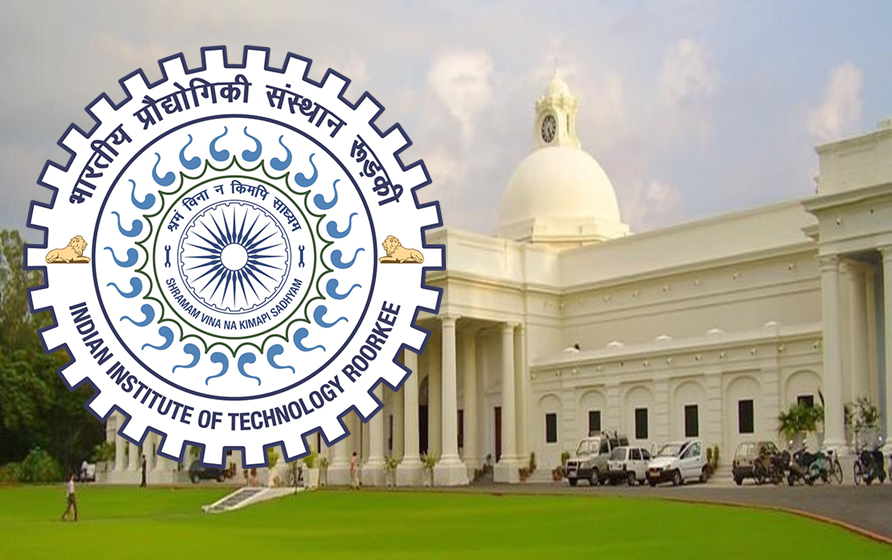 Designation/Position- Research Associate (RA) at IIT
IIT Roorkee, India, invites applications for Research Associate (RA) at IIT Roorkee from eligible and interested candidates
About- Indian Institute of Technology Roorkee is a premier public technical and research university in Roorkee, Uttarakhand, India, headed by Director Ajit Kumar Chaturvedi. It is formerly known as the University of Roorkee and Thomason College of Civil Engineering. Research Associate (RA) at IIT
Research/Job Area- Biotechnology/Biochemistry/Life Sciences/ Zoology/ Medical Biotechnology in the area of neurobiology
Location- Roorkee
Eligibility/Qualification–
Essential qualification: (i) Doctorate (Ph.D.) or equivalent degree awarded in Biotechnology/Biochemistry/Life Sciences/ Zoology/ Medical Biotechnology in the area of neurobiology OR (ii)
Candidates who have submitted their Ph.D. thesis but have not yet been awarded a Ph.D. degree in the above subjects.
Desirable qualification: Candidates having prior experience in handling and culturing mammalian cell lines (especially neuronal cell lines), induced pluripotent stem cells (iPSCs), differentiation of stem cells to neurons, analyzing the function and cell signaling in neuronal cells, developing animal models of neuronal disorders, various 11101ecular biology techniques including cloning of genes and other techniques like western blots, RT-PCR, immunoprecipitation assays will be preferred.
Job/Position Description-
Applications are invited from Indian nationals only for project position(s) as per the details below for the research project under the Principal investigator Proc Partha Roy, Department of Biosciences and Bioengineering. Indian Institute of Technology, Roorkee.
Title of project: Development of a comprehensive in vitro and in vivo study design for understanding the Pathophysiology of Bipolar disorder, associated biomarkers for its probable diagnostic and nutraceutical based therapeutic intervention
Sponsor of the project: SKAN Research 'I'rust, Puducherry
Project position(s) and number: Research Associate (One number)
Emoluments: Rs. 47,000,'- – 54,000/- pm (based on -the experience of the candidate) plus admissible HRA
Duration: Initially for two years, extendable to another one year + one year (based on the availability of funds)
Job description: To develop in vitro (cell-based) and animal (rodent) bipolar disorder models, optimize culture and differentiation conditions for iPSCs, screening chemicals using these cells (cell lines and iPSCs) for bipolar disorder drug development, functional analysis of bipolar disorder progression and its regulation (both at genetic and protein levels) using neuronal cells and rodent models towards the development of therapeutics, guiding the JRF and other project students in the
lab, maintaining regular liaison with the collaborating laboratories in various pans of India,
How to Apply-
Before appearing for the interview, candidates shall ensure that they are eligible for the position they intend to apply for.
Candidates desiring to appear for the Online Interview should submit their applications with the following documents to the office of the Principal Investigator through email (most preferable) or by post as a single PDF file:
Application in plain paper with detailed CV including chronological discipline of degree/certificates obtained.
Experience including research, industrial field and others.
Attested copies of degree/certificate and experience certificate.
Preference will be given to 'SC/ST candidates with equal qualifications and experience.
The shortlisted candidates will be intimated for an "Online Interview" tentatively to be held on September 27, 2022. The time and link will be shared before that.
Candidates who already submitted their applications against the earlier advertisement dated 19/8/2022 need not apply again. Their applications will be considered automatically.
Last Date for Apply– 25 September 2022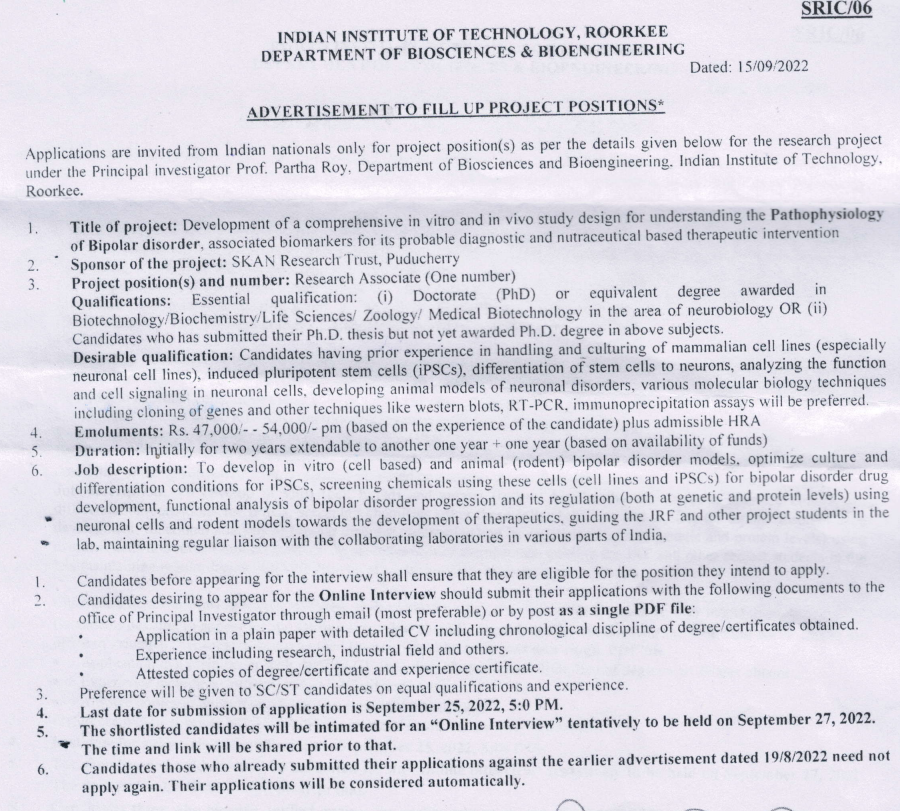 Find or Post Research Project PositionS – Researchersjob Board