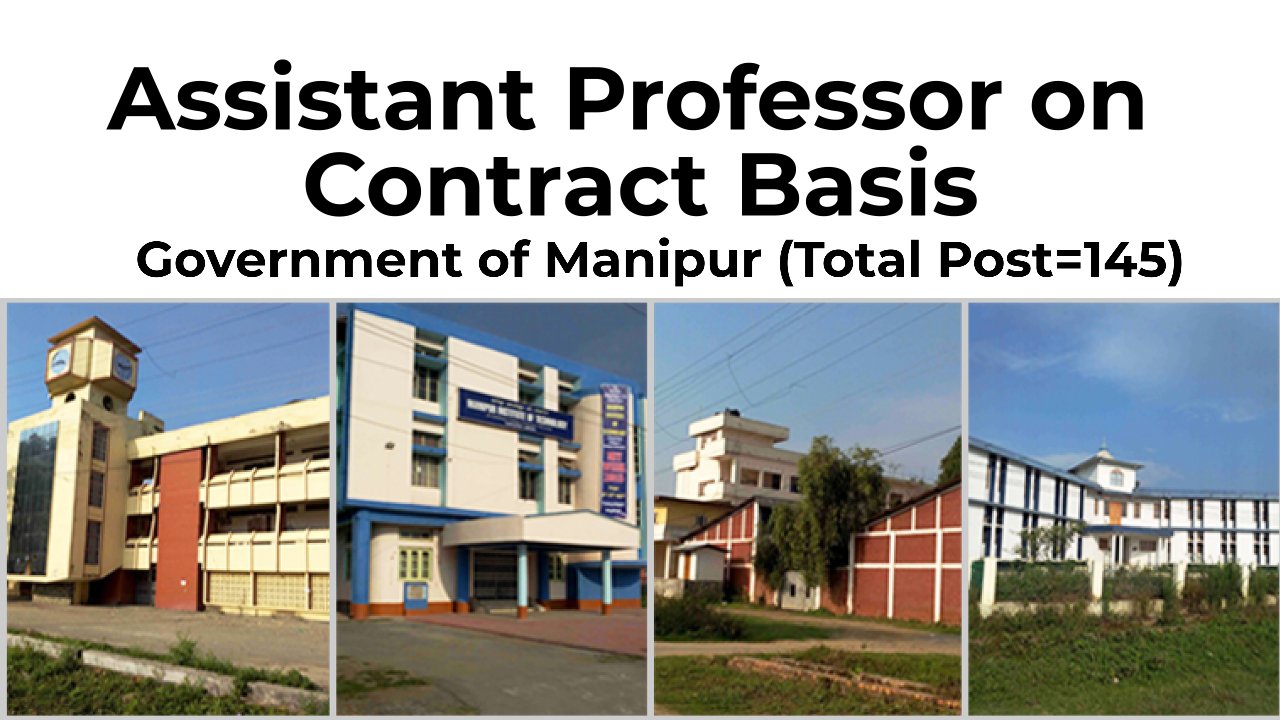 Designation/Position- Assistant Professor on Contract Basis
Department of Higher and Technical Education, Government of Manipur invites application for Assistant Professor on Contract Basis from eligible and interested candidates
About- No. 3/3-116/2018: In pursuance of the Department of Higher and Technical Education, Government of Manipur letter no. 7(2)/5/2018-HE (VAP) (Pt.) dated 26.03.2021, applications are invited for appointment of suitable candidates to 145 (one hundred forty five) posts of Assistant Professor on contract basis for a term of one year/one academic session for the Government Colleges of Manipur.
Research/Job Area-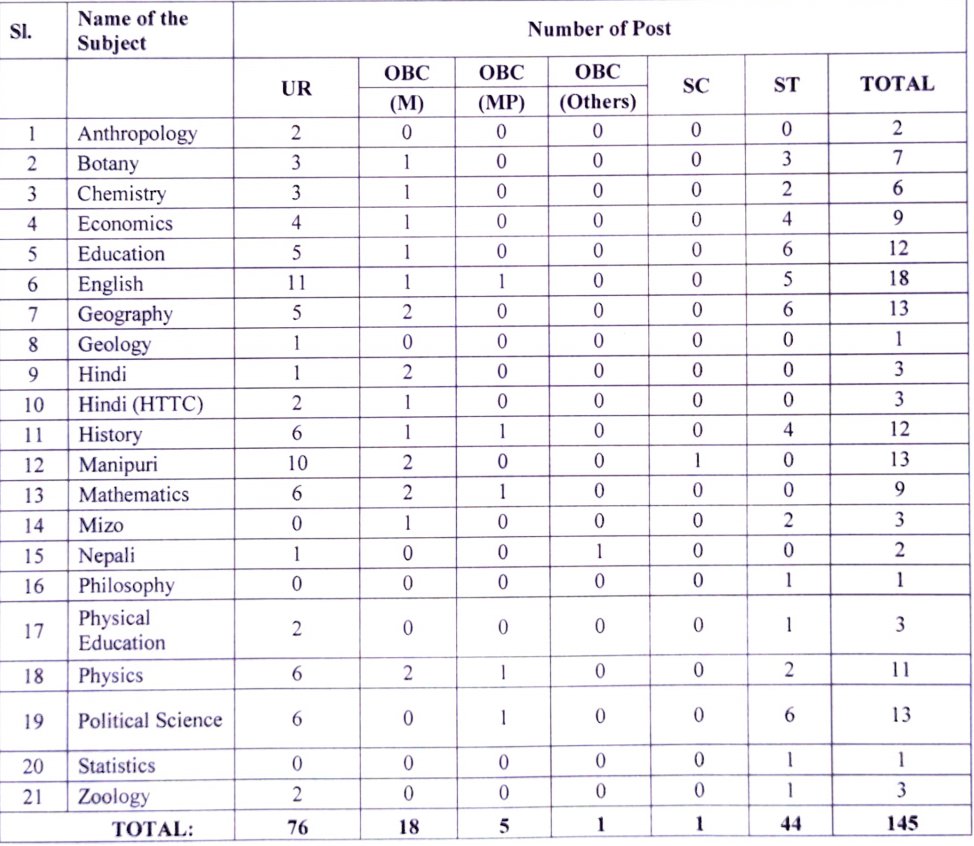 More Opportunities: DEA Program at FMSH France: 3rd Call 2021 | Apply by…
HUJI-IITD Collaborative Project: Call for Proposals | Last Date: 16 April…
Swiss Research Initiative Fellowship 2021 in ETH Zurich and EPFL, Switzerland
MSCA Postdoctoral Fellowships (MSCA-PF) at University of Agder (UiA), Norway
Location- Department of Higher and Technical Education, Government of Manipur
Eligibility/Qualification–
A. Candidates possessing the following qualifications in their respective subject/discipline are eligible for application for the posts except for Assistant Professor in Hindi for Hindi Teachers Training College (HTTC):
A Master's degree with 55% marks (or an equivalent grade in a point-scale wherever the grading system is followed) in a concerned/relevant/allied subject from an Indian University, or an equivalent degree from an accredited foreign university.
Besides fulfilling the above qualifications, the candidate must have cleared the National Eligibility Test (NET) conducted by the UGC or the CSIR, or a similar test accredited by the UGC, like SLET/SET or who are or have been awarded a Ph. D. Degree in accordance with the University Grants Commission (Minimum Standards and Procedure for Award of M.Phil./Ph.D. Degree) Regulations, 2009 or 2016 and their amendments from time to time as the case may be exempted from NET/SLET/SET :
Provided, the candidates registered for the Ph.D. Programme prior to July I l , 2009, shall be governed by the provisions of the then existing Ordinances/Bye-laws/Regulations of the Institution awarding the degree and such Ph.D. candidates shall be exempted from the requirement of NET/SLET/SET for recruitment and appointment of Assistant Professor or equivalent positions in Universities/Colleges/Institutions subject to the fulfilment of the following conditions:
The Ph.D. degree of the candidate has been awarded in a regular mode;
The Ph.D. thesis has been evaluated by at least two external examiners;
An open Ph.D. viva voce of the candidate has been conducted;
The Candidate has published two research papers from his/her Ph.D. work, out of which at least one is in a refereed journal;
The candidate has presented at least two papers based on his/her Ph.D work in conferences/seminars sponsored/funded/supported by the UGC / ICSSR/ CSIR or any similar agency.
The fulfilment of these conditions is to be certified by the Registrar or the Dean (Academic Affairs) of the University concerned.
Note: NET/SLET/SET shall also not be required for such Masters Programmes in disciplines for which NET/SLET/SET is not conducted by the UGC, CSIR or similar test accredited by the UGC, like SLET/SET.
OR
The Ph.D degree has been obtained from a foreign university/institution with a ranking among top 500 in the World University Ranking (at any time) by any one of the following: (i) Quacquarelli Symonds (QS) (ii) the Times Higher Education (THE) or (iii) the Academic Ranking of World Universities (ARWU) of the Shanghai Jiao Tong University (Shanghai
B. A candidate desirous of applying for the post of Assistant Professor in Hindi for Hindi Teachers' Training College (HTTC) should possess the following qualifications:
i. Master's Degree in Hindi from a recognized Institute with a minimum of 55% marks; ii. M.Ed. or Hindi Shikshan Nishant after B.T./B.Ed./Hindi Shikshan Parangat from a recognized University/lnstitute with a minimum of 55% marks; iii. NET/SLET/SET or Ph.D. awarded in accordance with UGC Regulations, 2009.
N.B
A relaxation of 5% shall be allowed at the Bachelor's as well as at the Master's level for the candidates belonging to Scheduled Caste/Scheduled Tribe/Other Backward Classes (OBC)(Non-creamy Layer)/Differently- abled ((a) Blindness and low vision; (b) Deaf and Hard of Hearing; (c) Locomotor disability including cerebral palsy, leprosy cured, dwarfism, acid-attack victims and muscular dystrophy; (d) Autism, intellectual disability, specific learning disability and mental illness; (e) Multiple disabilities from amongst persons under (a) to (d) including deaf-blindness) for the purpose of eligibility and assessing good academic record for direct recruitment. The eligibility marks of 55% marks (or an equivalent grade in a point scale wherever the grading system is followed) and the relaxation of 5% to the categories mentioned above are permissible, based only on the qualifying marks without including any grace mark procedure.
A relaxation of 5% shall be provided, (from 55% to 50% of the marks) to the Ph.D. Degree holders who have obtained their Master's Degree prior t019 September, 1991.
The candidates will be shortlisted as per the criteria given under UGC Regulations, 2018:
However, if the period of teaching/post-doctoral experience is less than one year then the marks shall be reduced proportionately.
Note : (A)
| | |
| --- | --- |
| (i) M.Phil. + Ph.D. Maximum | – 25 Marks |
| (ii) JRFAET/SET Maximum | – 10 Marks |
| (iii) In assards category | – 03 Marks |
| Academic Score | 84 |
| Research Publications | – 06 |
| Teaching Experience – | 10 |
TOTAL IOO
(C) SLET/SET score shall be valid for appointment in respective State Universities/Colleges/institutions only.
Job/Position Description-
An application fee of Rs. 1000/- for the General candidates, Rs. 800/- for OBC candidates and at Rs. 500 for SC/ST/PWD candidates respectively per application should be paid in cash while submitting the application form in hard copy. The fee may also be transferred electronically to the following Bank Account in which case the payment slip of the same should be submitted along with the application form:
Name of the Bank: IDBI, M.G. Avenue, Imphal
Account No: 12191040001 15292
IFS Code: 1BKL0001219
How to Apply-
The interested candidates may apply online at www.highereducationmanipur.gov.in. or at https://career.onlineuhe.in starting from 27.03.2021(12.00 noon) till 12.04.2021 (12.00 midnight).
Any technical problem faced while filling up the application form online may be mailed to mmoirangthem5@gmail.com
CONDUCT OF INTERVIEW & SELECTION OF CANDIDATES:
A total of 5 candidates from the shortlisted candidates, in order of merit, will be invited to take part in the interview for one post. Other candidates from merit list no. 6 downwards will not be considered for interview. The selection of the candidates may be based solely on the performance of the interview only.
Last Date for Apply– 12 April 2021
You can get our Regular updates on Telegram also
Find or Post Research Project PositionS – Researchersjob Board
See Also: Motivation Letter for PhD, Postdoc, and Other Research Positions
Whitesmoke Grammar Checker Online – Improve Your Research Writing Skill – Alternative to Grammarly
How to write a literature review: Tips, Format, and Significance
Research Proposal How to Write: Detail Guide and Template