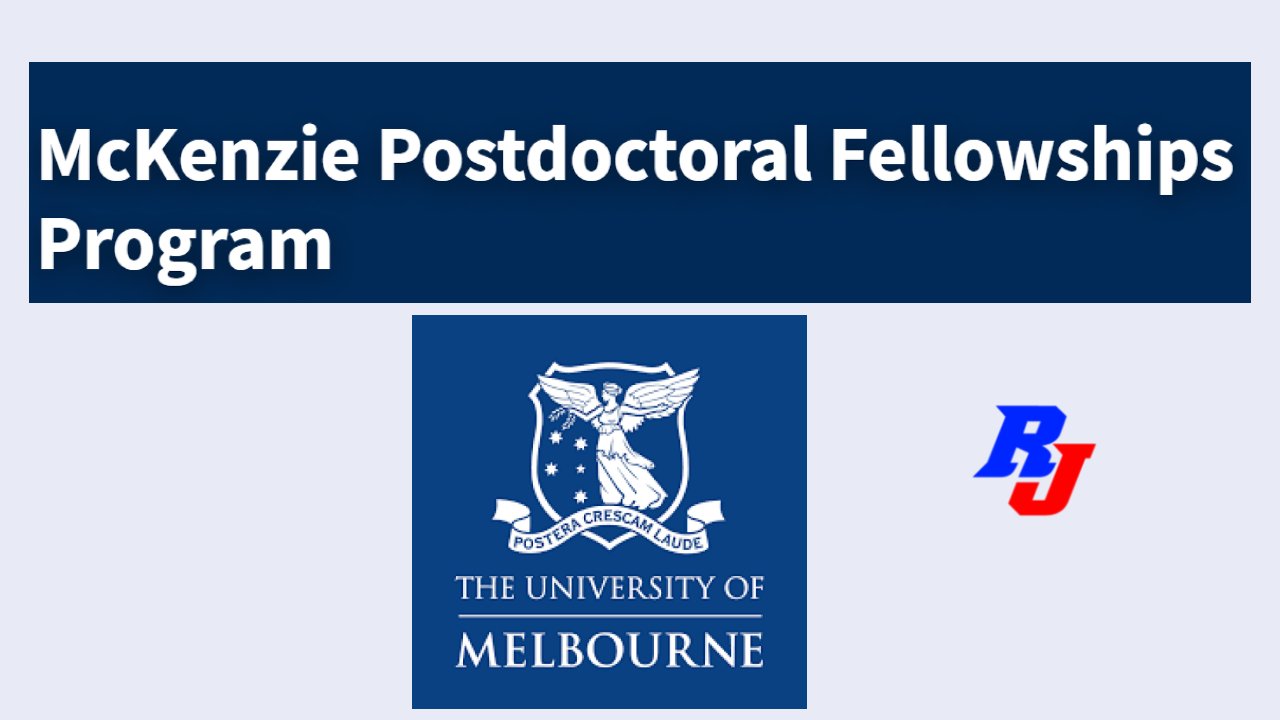 Postdoc Position in Australia 2021 – McKenzie Fellowships Program
Designation/Position- Postdoc Position in Australia 2021
University of Melbourne, Australia invites application for Postdoc Position in Australia 2021 from eligible and interested candidates
About- The McKenzie Postdoctoral Fellowships Program has been established to attract outstanding recent doctoral graduates to the University from around the world. The Program aims to recruit new researchers who have the potential to build and lead interdisciplinary collaborative research activities inside and across Academic Divisions. The University offers a leading and lively research environment that is internationally engaged, public-spirited, and has many outstanding areas of research strength.
Research/Job Area- Areas of research priority for the University
Location- University of Melbourne, Australia
Write an Email to Professor: Complete Dos and Don'ts Discussion
Follow-up email to a professor: When and how you should write
Eligibility/Qualification–
The 2021 McKenzie Postdoctoral Scheme was suspended mid-round in 2020 as a result of the COVID 19 pandemic.
Consequently, applicants who previously applied in 2020 and were then eligible for the 2021 McKenzie Fellowships are invited to reapply now for the 2022 McKenzie Fellowship. For these applicants only, eligibility at the time of their original application in 2020 applies.
New applicants for 2022 must have been awarded a PhD from a university other than the University of Melbourne between..
… 1 January 2019 and 23 August 2021 – Eligible
… 1 Jan 2017 and 31 December 2018 with equivalent or less FTE research experience than the option 1 – Eligible to apply, must complete Part B3 of the full application.
… 1 January 2011 and 31 December 2016 with equivalent or less FTE research experience than option 1 – Not currently eligible. May complete Eligibility Exemption Request to determine eligibility prior to completing the full application.
At the time of application, applicants must not have held, or be holding, a fixed-term or continuing academic appointment at the University of Melbourne that is greater than one year. Where applicants have held multiple back-to-back fixed-term appointments, these should not be more than one year in total.
Applicants will be required to provide a declaration of support from the department/school in which they would be located if successful, but the criteria for selection will be university-based
Eligibility Exemptions may be available for some applicants. For more information, please see the Guidelines and 'How to Apply' section below.
Job/Position Description-
The University will fund the Fellowships for a three year appointment commencing at Level A.6 in the University salary band plus superannuation.
Fellows will receive an additional $25,000 to be spent on project costs over the term of their Fellowship.
Awards will be for a maximum of three years commencing between 1 January 2022 and 30 June 2023.
How to Apply-
Review faculty/school processes
Faculty
Contact Email
Phone
Process
Faculty of Architecture, Building and Planning
abp-research@unimelb.edu.au
9035 8979
Please submit your drafts to the listed email address by 2 August 2021.
Faculty of Arts
Steph Johnson, arts-staffresearch@unimelb.edu.au
8344 9284
Submit your EOI by 3pm (AEST), Monday 5 July 2021.
Faculty of Business and Economics
Lishia Singh, fbe-research@unimelb.edu.au
8344 2818
Submit an EOI by 3pm (AEST), Monday 5 July 2021.
Faculty of Fine Arts and Music
Bernardo Jarrin, fineartsmusic-research@unimelb.edu.au
0433 622 451
Submit your EOI via this webpage by no later than 11:59pm AEST, Wednesday 23 June 2021.
Faculty of Medicine, Dentistry and Health Sciences
Nikki Fisher, mdhs-grants@unimelb.edu.au
8344 6330
Please complete the MDHS EOI and HoD endorsement by 3pm Monday 28 June 2021.
All MDHS applicants must submit an EOI through the MDHS SmartyGrants portal (listed immediately above). Only those successful at this stage will be invited to submit a full application (through the RIC SmartyGrants portal).
Faculty of Science
Jan Seesod, science-research@unimelb.edu.au
8344 3752
Submit your EOI at this webpage by 3pm (AEST) Monday 5 July 2021.
Faculty of Veterinary and Agricultural Sciences
Timothy Crockett, fvas-researchdevelopment@unimelb.edu.au
8344 4637
Please complete an EOI by COB Monday 28 June via this SmartyGrants form.
Melbourne Graduate School of Education
Alex Burns, mgse-grants@unimelb.edu.au
8344 8236
Submit an EOI by 3pm Monday 28 June 2021.
Melbourne Law School
Mas Generis, law-research@unimelb.edu.au
8344 9983
Submit an EOI by Monday 28 June 2021.
Faculty of Engineering and Information Technology
FEIT-research@unimelb.edu.au
N/A
No EOI process applies. Please send inquiries to the listed email address.
Academic contact – Make sure you have an academic contact within your proposed host Faculty/School who is willing to support your application. Your proposed host Faculty/School can advise you as to how best to get in touch with an appropriate academic contact.
Review the funding guidelines- Read the McKenzie Fellowship guidelines.
Complete the eligibility exemption request form- If applicable, complete the eligibility exemption request form on SmartyGrants by 5 July 2021. Please note: Not all applicants are required to submit an EER. This is only applicable if you do not meet all the eligibility criteria in the Funding Guidelines. Eligible applicants may submit an application without submitting this form.
Complete the application form– Complete the application form and obtain the relevant signatures for submission.
Submit the application– Submit your application via SmartyGrants by 3pm (AEST) 23 August 2021.
Submit written testimonials– Request your referees submit their written testimonials via email to mckenzie-application@unimelb.edu.au by 23 August 2021.
For Contact- mckenzie-application@unimelb.edu.au
Last Date for Apply– 23 August 2021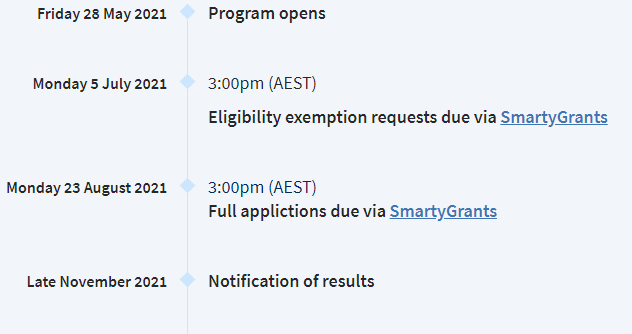 Join Our Discussion Forum – Keep your view, share knowledge/opportunity and ask your questions