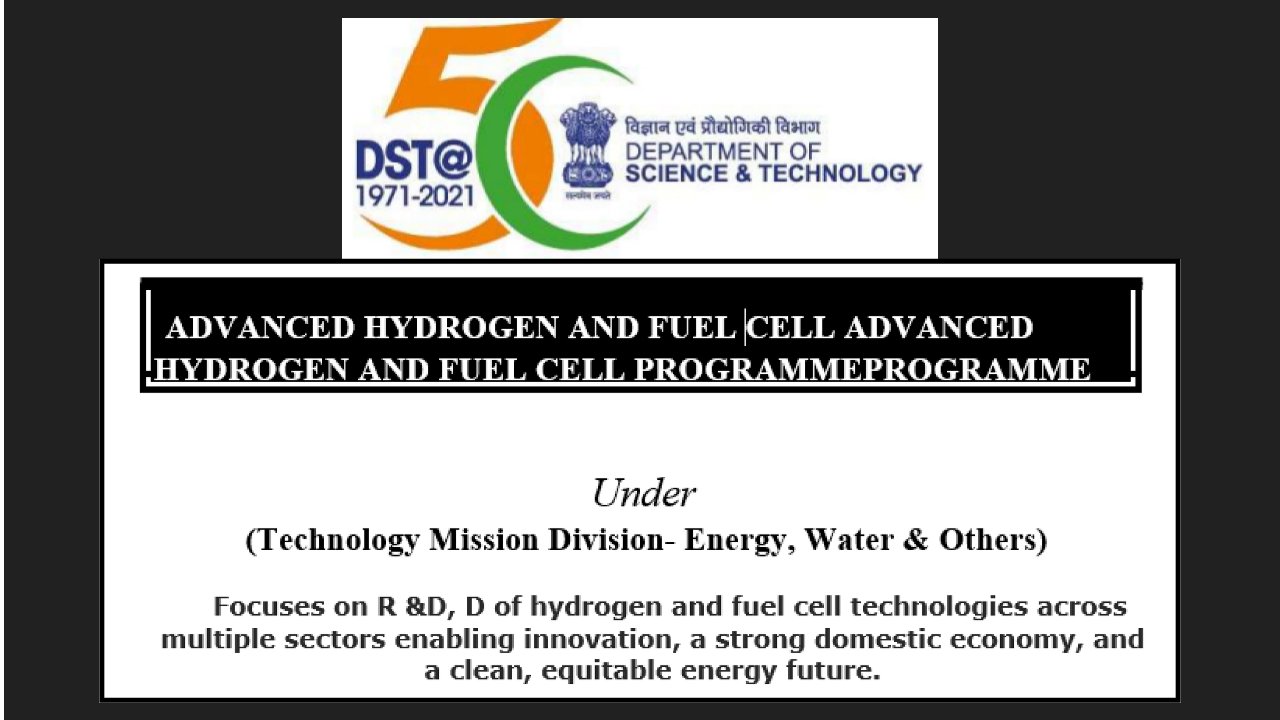 Designation/Position- Call for Proposals – DST
Department of Science and Technology, India invites application for Call for Proposals – DST from eligible and interested candidates
About- The Department of Science & Technology (DST) under its Advanced Hydrogen and Fuel cell Programme is promoting and supporting activities related to indigenous development of new and existing material in large quantities, catalysts, membrane, components for fuel cells, electrolysers, hydrogen storage materials, materials for type IV cylinders and prototypes for implementation of various applications of hydrogen and fuel cell in the country. Call for Proposals – DST
Research/Job Area-
Focuses on R &D, D of hydrogen and fuel cell technologies across multiple sectors enabling innovation, a strong domestic economy, and a clean, equitable energy future.
Following areas have been identified and project proposals may be submitted for research development and demonstration needs for hydrogen and fuel cells: –
Development of improved electrolysers at MW scale and their integration with renewables to demonstrate green hydrogen generation.
Demonstration of large scale, sustainable and cost-effective bio hydrogen production
High-density solid-state hydrogen storage material-based technologies for various applications including heating and cooling, thermal energy storage, compression, back- up power etc.
Demonstration of large-scale grid storage for integration of renewables.
Demonstration of liquid organic hydrides-based hydrogen transport including the synthesis and regeneration of LOHC.
Demonstration of suitability of novel materials including adsorbents based complex and chemical hydrides and their scalability for large scale hydrogen storage.
Improving the efficiency of the conversion processes.
Development of cost-effective carbon capture use and storage (CCUS) for reforming processes.
Material processing and new material development for hydrogen production through water electrolysis (Alkaline/acid/SOEC), photo-electrolysis, photo-catalysis etc.
Low cost separation and purification technologies for thermal production processes.
Increasing durability and lowering cost of fuel cells, alternatives to Proton Exchange membranes (Surface area and activity loss due to catalyst dissolution, Catalyst particle growth and agglomeration, Activity loss due to catalyst support corrosion, Degradation due to corrosion of the bipolar plates, Voltage loss due to increasing contact resistance between individual components , Membrane degradation due to chemical attack and mechanical stress, Catalyst and membrane performance loss due to contamination)
Enable development of manufacturing technologies and processes of hydrogen and fuel cell components in parallel with technology development while fostering a strong domestic supplier base. Develop manufacturing techniques to reduce the cost of fuel cell stacks at high volume
Reduce the cost of manufacturing components and systems to produce and deliver hydrogen
Demonstration of cost effective and compact indigenous electrochemical stack (Fuel cells) of capacity 100kW or more with Protocols for testing PEMFC components and stack
Integration of Green hydrogen storage systems with fuel cells at a suitable level for power generation
High efficient power converters for all applications related to RE (PV/wind), electrolyser and fuel cells
Fabrication of indigenous Type IV tanks.
Development of materials for lightweight hydrogen cylinder – Includes development of lightweight composite materials for hydrogen storage which can resist embrittlement and flames.
Detailed studies on the requirements, technical barriers and economics for the introduction of hydrogen to the hard to abate sectors.
Development of policy frameworks and standards for deployment of hydrogen based technologies.
Demonstration of projects including the complete hydrogen pathways from production, storage, transport, utilization and refueling at a larger scale for e.g. around hundreds of kg of H2 with state of art technologies.
Location- India
More Opportunities-
Various Research Positions – 05 June 2021: Researchersjob- Updated
Explain your research paper in a simple way with Researchersjob
Abdul Kalam Technology Innovation National Fellowship 2021, India
Call for Proposals – Star College Scheme From UG Colleges Of…
Eligibility/Qualification–
The Project Proposal could be submitted for financial support though ONLINE MODE ONLY by Scientists/ Engineers/ Technologists working in Universities and other Academic institutions; R&D institutions/ laboratories having adequate infrastructure and facilities to carry out R&D work.
The PI(s) should have relevant experience as evident from previous prototype commercialization or development or practical experience in the chosen area/topic with field knowledge.
Job/Position Description-
Project Duration:
The projects should be time-bound normally for duration of 2-3 years depending upon the prototype/device to be developed.
Funding Available: 10 Crore maximum
How to Apply-
The Project Proposal could be submitted in the enclosed format through ONLINE MODE ONLY (www.onlinedst.gov.in).NO HARD COPY of the project proposal should be submitted.
Application received without above documents with incomplete information will not be entertained. Soft copy in pdf format is also to be emailed to ranjith.krishnapai@gov.in on or before 30th July, 2021 (05:30pm).
Contacts: Any enquiries related to this call should be directed to:
Dr. Ranjith Krishna Pai
Director/Scientist 'E'
Technology Mission Division (Energy & Water)
S&T Block 3, Room No: 01
Department of Science and Technology (DST)
Ministry of Science and Technology, Govt. of India
Technology Bhavan, New Mehrauli Road
New Delhi-110016
Ph: 011-26590475
E-mail: ranjith.krishnapai@gov.in
Last Date for Apply– 30 July 2021
Join Our Discussion Forum – Keep your view, share knowledge/opportunity and ask your questions